Welcome to Breakthru Software
"Breaking Down Barriers To Your Innovation."
Special Offers
Special: 25% to 30% Off As a special promotion and for a limited time, we are offering most products at 25 to 30% off the regular sale price. See the product "Buy Now" page for applied discounts.
Evaluation Key
Get an Instant, 30-Day Evaluation Key. It will unlock all the features of the program for all editions and allow you to save your work. No obligation. No order forms. No marketing emails -- Just a key. Enjoy.
Video Mill

and

Sound Mill X3

integration is possible to provide a powerful multi-media performance tool suite. Instantly kick off automation by sending commands from one program to the other. Coordinate your video and audio design with milli-second timing. See program Overview pages for more details.
Video Mill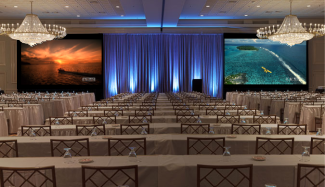 Video Mill
is a video (and image) manager that allows you to play multiple videos simultaneously. Each video is played in its own window (Media Screen) which can be sized to stretch or shrink the video and positioned as desired. Presenters and mobile entertainers can customize presentations by picking from their library of videos for a target audience. Start/stop/pause/resume all videos with one click or keyboard button press. Or freeze individual Screens while others play on. With a common video projector, use
Video Mill
as video-scapes or backdrops for theater, concerts, amusement attractions, or museum displays. Store owners can play multiple promotion videos side by side on a large TV.
Uses include:
Theater, Concerts and Public Speaking Venues
Teachers, Presenters and Mobile Performers
Haunted Mansion Walk-throughs or Museum Displays
In-Store, Business and Public Venues
Sound Mill X3


10,000 people were spooked by a supernatural experience at the
Haunting in Memphis.
Sound Mill
was there. And rumors place Elvis in the building as well.
Sound Mill X3
is a sound effects player, manager, and automation tool that can transform your wildest ideas into sound design that works. Typical applications include: theater and radio; in-store and public venues with music and announcements; amusement attractions such as haunted mansions or museum displays; mobile entertainers such as magicians; sound scapes to accompany computer screen shows or presentations; or really any audio production or project. From novices to experts,
Sound Mill
offers the simplicity and flexibility you need for custom sound designs - automation, playlist, date/time scheduling and piping sound to multiple speaker zones.
Now remote control sound Cues with a pocket remote from up to 130 feet from the computer -- A great audio solution for Solo Performers and Presenters. Ability to operate as an Audio Kiosk is also now possible.
Uses include:
Theater
Haunted Mansion Attractions and other walk/ride thru amusements
In-store, Business or Public Venues music programming with announcements
Solo Performers and Presenters such as magicians, instructors, story tellers, etc.
Really anywhere that you want to apply your own Custom Sound Design
Matrix Mic and Player

Matrix Mic & Player can simultaneously pipe microphone announcements to Multi-Zone Output Systems (stage, lobby, courtyard, etc.) in your venue from one computer connected microphone (or headset mic). It includes a full function Player with Playlist support to play music or pre-recorded announcements to multiple zones. No specialized hardware needed -- just standard computer components. Matrix Mic will broadcast to selectable speaker outputs connected to your soundcards. Save configurations to rapidly switch between groups of target speaker destinations. No limit on the number of speaker zones supported. Useful for entertainment, school and business applications of any type. Use stand-alone or as a companion tool to Sound Mill .
Uses include:
Theaters
Stores, Schools, Business or Public Venues
Any venue with a Multi-Zone Output System
Tempo Game Clock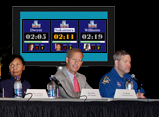 Tempo Game Clock
is a multi-player game clock, score keeper and game recorder. It supports time controls and scoring for standard board games. And you can configure it for virtually any type of custom game time controls you can dream up (up to 16 players). With a standard video cable you can project the game displays onto any television or digital video display at a performance or contest venue. Resize the game displays as large or small as needed to fit your display screen.

Uses include:
Standard Board Games - Chess, Checkers, Go, Boggle, and Scrabble and general timed board games -- at home or in club settings. Run on a laptop next to your game board.
Game Shows, Debates or any timed contest that requires separate clocks for players or teams.
Custom Games - clock time controls and scores are fully configurable. Create your own Game Show concept and pilot it at a local venue.

Tempo Game Clock goes Hollywood! Read how Hollywood producer/performer, J. Keith van Straaten, used Tempo Game Clock for a television game show pilot. This was a completely custom application of Tempo Game Clock implementing a non-trivial clock sequence. All done with the standard program product. Invent your own game show and stage it anywhere that you can connect a laptop computer to a TV monitor.