Sound Mill X3

: User's Guide

Contents

Language

Product Home
Color Group Editor
Overview
Color Group Editor allows you to edit and save a Color Group (a pair of colors). A Color Group is typically used to pair foreground and background colors of text elements, but may have other uses as well.

To Page Top
Editing Color Groups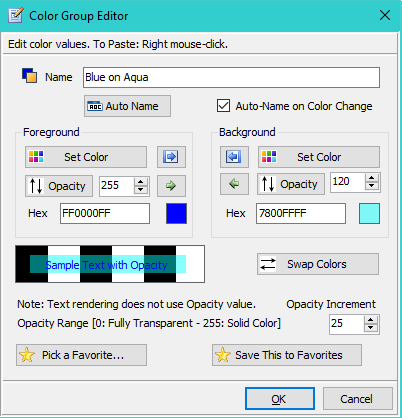 Color Swatch Sample
The Sample Text with Opacity swatch at the bottom of the dialog shows a preview of the Opacity effect over light and dark backgrounds. Note that Text rendering does not use Opacity.
Favorites Buttons
Pick a Favorite

- You can set the colors quickly by picking a color group from your Favorites (via popup dialog).

Save This To Favorites

- You can save the current color group from your Favorites for future use.

To Page Top
Notes on Opacity
Opacity is the inverse of Transparency.
Text rendering does not use Opacity (a Windows limitation).
Most program visual controls that use Color Groups have a checkbox that allows you to make its background transparent. So you generally do not have to set Opacity of the Background Color to zero to make background fully transparent.
It is a good practice to set Opacity for Foreground and Background to the same value when it applies to a visual control that will be displayed in Reverse Video when hightlighted (ie. when the control is selected). This will generally make the reverse video effect look more consistent.