Sound Mill X3

: User's Guide

Contents

Language

Product Home
Reports Options
Locator: Sound List Editor > Tools > Options .
Reports Contents
A Sound Design Report (a.k.a. Sound Plot, see Listing 1) can be customized to include any combination of the following Sound Item attributes. You can save the report to a text file and print it or search its contents. Empty fields or unchecked attributes are not included in the report. Buttons are provided to Check All or Clear All checkmarks.
Sound Item Attributes
Name

- The Sound Item Name field is always included in the report.

Description

- Includes the Description field in the report. This can be multiple lines of instructions.

File Properties

- Includes the Media File name, media time Duration, Media Type, and Track Number.

Include folder path

- Includes the full folder path for the Media File name.



Classifiers

- Includes the Classifiers information in the report.

Play Modifiers

- Includes the Play Modifiers information in the report.

Markers

- Includes the settings for all Start, End and Fade markers in the report.

Show Ids

- When checked,

Sound Items

, automation

Scripts

and External Programs will expose the unique item Identifiers (Id). Generally this is only useful as a diagnostic aid if the program cannot find a referenced item or a

Sound List

is not working as expected.
Other Objects
Automation Scripts

- Includes

Scripts

, each with a list of

Script

Step

s.

Playlists

- Includes

Playlists

, each with a list of Cue Buttons.

External Programs

- Includes the definitions for External Programs in the report.

Program Behaviors

- Includes the Behaviors in the report for: Sound List Editor, Automator (when Scripts is checked) and Easy Player (when Playlists is checked).

To Page Top
Playlist Logs
Sound Items played via Automation Scripts (playlists) can be logged for review and record keeping. A new Log file (simple text file .txt) is created each day. The log files are named with a sortable date prefix (yyyy-mm-dd) so you can easily sort and find logs. Open with any text file editor (Notepad, etc.).
Enable Logging

- Enables logging of all played Media Files with a time stamp. When unchecked, NO log entries are created.
Example log file name: "2013-02-09 Sound Mill X3 Play Log.txt"
Example log entry: 2/22/2020 8:22:03 AM,A Hard Day's Night.mp3

Default Delimiter

- Play Log Content values are separated by this delimiter (one character only). A comma (",") is the default. If you are NOT using the log file for import as a CSV file (see below), it doesn't matter what character you use. If you do need to maintain a valid CSV file you can change the delimiter character as needed. Since SoundItem Name and SoundItem Description can contain characters like commas, you need to pick a character that will not be used in those fields.
Example: Using semi-colon as the Delimiter. Note that commas is used in the SoundItem Description in this example.
2/22/2020 8:22:03 AM;Something.mp3;Something, Beatles, Abbey Road, 1969;00:03:01

Folder for Playlist Log

- Click the folder browse button to pick the folder where the

Playlist

log will be written. Recommendation: Since they will accumulate on a daily basis, create a folder under your Soundmill X3 User Documents folder to keep logs separate from Soundlist files (But you are free to put them anywhere you want).

Playlist Log Content

- Specifies what data to include in each log entry (use any or all of the values below).

Date/Time Stamp - Date/Time the media was played (in your country local time format).
Media Filename - Includes the audio format type (mp3,wma, etc.)
SoundItem Name - Name is generally used as an identifier and should be limited to just a few words since it is used for menu selections.
SoundItem Description - You can include more information with Description. (Example: Song Name, Band Name, Album Name, Artist, etc.)
SoundItem Media Duration - Audio length in hours:minutes:seconds.
Import Playlist Log to your record keeping package
You can import the Playlist Logs to your own record keeping package (database or spreadsheet) as comma separated values (CSV) format. The time values should be recognized as times by spreadsheets imports (for Microsoft Excel, use 'General' format for times). The separating delimiter can be changed as needed (see above).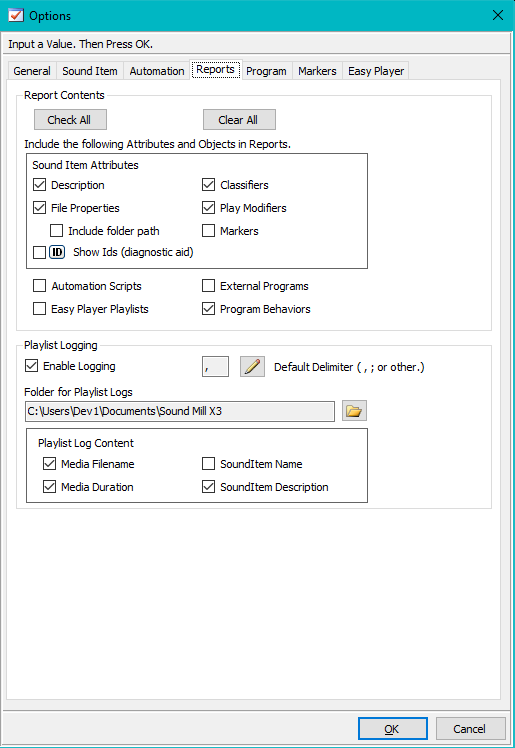 To Page Top
Example - Sound List Design Report
Listing 1. Sample Report


============================
Sound List Design Report
============================

Sound List: Grease

Report Date: Saturday, January 23, 2016
File Name: Grease-X3.slt
Last Saved: 1/23/2016 12:05 PM
Sound Mill version 3.16

Description: Grease production by Springfield Theater Players
Contact theater manager at 413-555-1234
Sound design - Joe Waverly , copyright © 2010

===============
Sound Items
===============



_____________________
1. Football field
	Act 1, Scene 1, Page 1
	Category: 2 Music
	Filename: C:\2-MEDIA\1-Sounds\Grease\Football field.wav
	Duration : :04
	Track : 1
	Driver: Media Player

________________
2. Gym noise
	Act 1, Scene 2, Page 1
	Category: 1 Sound-Cue
	Filename: C:\2-MEDIA\1-Sounds\Grease\Gym noise.wav
	Duration : :04
	Track : 2
	Play Modifiers: , Multi-Play 2
	Driver: Media Player

___________________________
3. School announcements
	Act 1, Scene 3, Page 2
	Category: 1 Sound-Cue
	Filename: C:\2-MEDIA\1-Sounds\Grease\School announcements.wav
	Duration : :02
	Track : 3
	Play Modifiers: Output Group: 1
	Driver: Windows Audio

________________________________________
4. You're the One That I Want - song
	Act 1, Scene 4, Page 3
	Category: 2 Music
	Description: Cue when Sandy says "Tell me about it, stud."
	Filename: C:\2-MEDIA\1-Sounds\Grease\You're the One That I Want.mp3
	Duration : 03:11
	Track : 4
	Driver: Media Player