Installation and Troubleshooting

: Knowledge Base

Contents

Language

Breakthru Software Home
Program Configuration Data
How to Get the Program Configuration Data
Start the program and go to

Help > About

menu item.
Click the

Copy

button to copy the data to the Windows clipboard.
Paste the data into an email and send to Breakthru Software Support.
For old versions of our programs without the Copy button, right-click in the textbox, then from the context menu, choose Select All, then Copy .
Activation Code
After successful program activation, you activation code will be shown as the License Id in this dialog.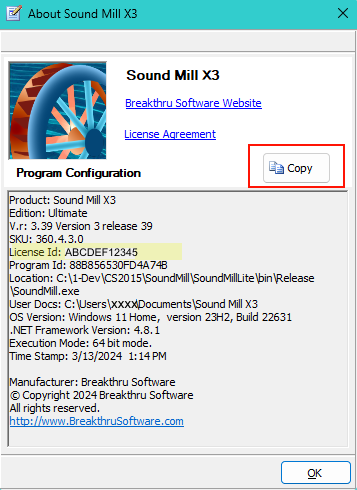 To Page Top
If the Program Will Not Start
If you can't start the program to get to the About dialog, send this information.
Product name, edition, version and release number.
Windows version and service pack. (ex. Windows 7 Home, service pack SP2)