Edit Player Elements menu
Locator: Easy Player > Player Elements .
The Common Player Elements (Figure 1) are managed separately from Playlists. These settings will determine the visual appearance of these Player Elements regardless of which Playlist is currently open. Any/All of these elements can be hidden using the View menu. They can be resized to meet your needs, even large enough to be seen across the stage/room by a solo performer/presenter.
Most of these settings will require you to Rebuild the Player after making a settings change. (Actions > Rebuild Player)
Common Player Elements
Playback Controls Panel.
Play Position Time Readout.
Volume Bar.
Play Position Progress Bar.

Player Color Theme
Match the Player colors to your business brand, organization or school colors. You simply pick a Foreground color for Text and a Background color for the Player panels and controls using the Color Group Editor. After setting a color theme, you can customize various Playlist attributes and Player elements to meet your needs. This is a productivity operation that sets many of the Player color settings and some Playlist color settings for the current opened Playlist. All the Player Elements and the opened Playlist cue buttons are assigned the new colors that you select. It also saves the colors as the Default Player Color Theme so newly created Playlists will have this color theme.
Menu items
Here are two sample Color Themes (dark and light). Your color selections are virtually limitless.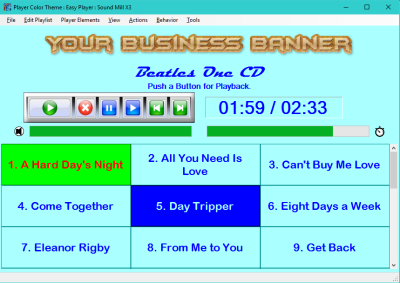 Play Position Time Readout
When a cue is playing, the Play Position Time Readout will always show the current playback position and duration of the current playing cue. When nothing is playing, it will display the time duration of the selected cue button.
Font Style and Size Considerations
Monospaced fonts (non-proportional) are a better choice for the Readout. A Monospaced font is one whose letters and characters each occupy the same amount of horizontal space (ie. "1" and "M" will be the same width). Proportional fonts may cause the Readout text to jitter somewhat as the characters change with each second tick. Picking a font size for your requirement. If it has to be readable you can pick one of the largest font sizes or even specify a size number in the font selection dialog. The Playback Controls Panel can be resized to match your font height (see below).
Menu items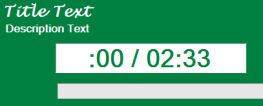 Play Position Readout - Format Examples
A.

- Play Position / Media Duration.

B.

- Play Position only.

C.

- Playback Time Remaining. (Hour glass symbol () indicates this mode.)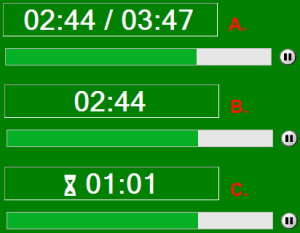 Paused Indicator: When a cue is paused, the icon at the end of the Play Position Progress Bar will show a paused indicator (as in Figure 5).
Readout Custom Width
The size of the Readout textbox is calculated based on the font size selected for the Readout. By default, it is calculated to allow for media under an hour in duration (ie 59:59 maximum). If you have media that is over an hour, you may need to expand the size of the Readout box to accommodate more characters. Changing fonts may require you to resize the readout box.
Menu items

Playback Controls Panel
The Playback Controls Panel (#6 in Figure 12) lets you Play/Stop Pause/Resume the current selected cue button. The Next and Previous buttons move the selection to an adjacent cue.
Menu items
Scale Play Controls Size
Allows you to scale (up or down) the size for Play Controls buttons and the button container panel. The Scale factor is set as a percent of the standard size. Examples: 100% is the standard size; 200% is double the standard size; 50% is half the standard size. Allow values are between 50% to 1000%. Figure 8 shows 200% scaling (scale factor = 2.0) -- note its height compared to the standard sized volume bar.


Progress Bars Height - Menu item

Cue Buttons
The cue button colors indicate: the current playing cue (#10 in Figure 12); the current selected cue (#12 in Figure 12); and all other cues are displayed as unselected (#11 in Figure 12). When you click play the current selected cue begins playing. The buttons are touch screen enabled.
Keyboard Navigation
Menu items
About Background Image on Cue Buttons
Figure 11 shows Cue Buttons using a Default Background Image. You can select the Background Image in the Player Options dialog. If you haven't selected one, the image shown in Figure 10 is used. If you use a Background Image on Cue Buttons, you need pay special attention to the Cue Buttons colors (playing cue, selected cue, and unselected cue). The foreground color needs to be able to show up on top of the Background Image. For example, black text (or other dark color text) will not be readable on a black Image.
Creating Your Own Custom Background Image
The image can be any common image format (ie png, jpg, etc). Design it with about the same aspect ratio that your Cue Buttons will be sized (ex square, rectangular, etc). For best visual results, make the image pixel dimensions (width, height) about the same pixel dimension that your button cues will be on your display -- no need to be exact. The image will be stretched to fit the button size but if the image pixel dimensions are too small, it may appear 'fuzzy'. In Figure 11, you will notice the image does not completely fill the Cue Button -- most prominent on Cue #1. This was a design choice to allow the background color outline the Cue Button with some highlighting color. So the image was created with a border of transparent pixels (a few pixels wide). You can of course fill the image with no transparent border as desired.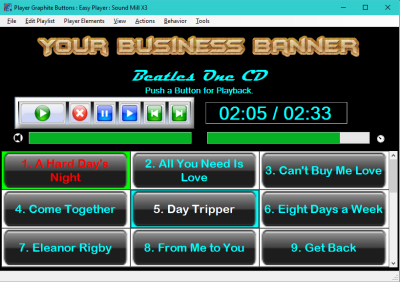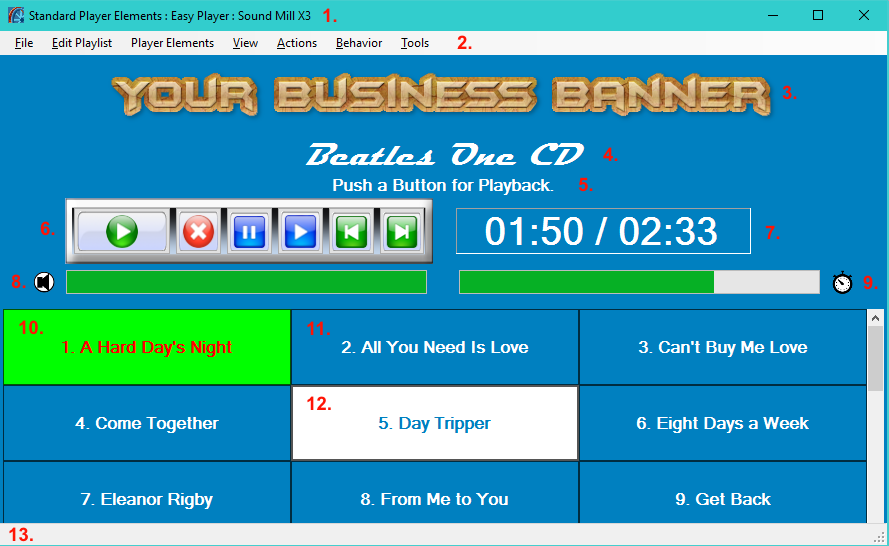 Easy Player Elements:
1. Window Title Bar; 2. Window Menu Bar; 3. Playlist Marquee Image; 4. Playlist Title; 5. Playlist Description; 6. Playback Controls Panel; 7. Playback Time Position Readout; 8. Volume Bar and Volume/Mute Indicator; 9. Playback Position Progress Bar and Playing/Paused Indicator; 10. Cue Button - Playing Cue; 11. Cue Button - Unselected; 12. Cue Button - Selected; 13. Window Status Message Bar.