Sound Mill X3

: User's Guide

Contents

Language

Product Home
Play Modifiers
Locator: Sound List Editor.
Play Modifiers group
Each Sound Item has the following optional

Play Modifiers attributes (see Figure 1). These apply in both regular play or sequence play mode.

To Page Top
Play Modifiers Settings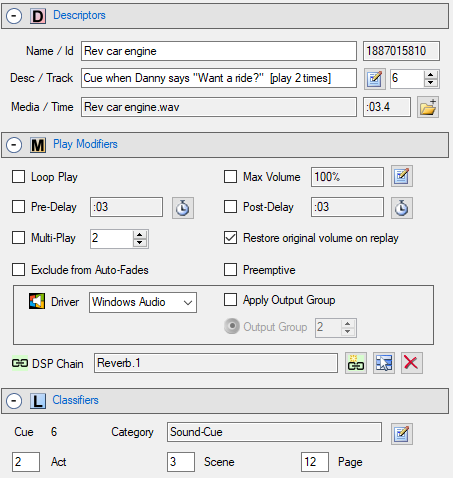 To Page Top
Preemptive Play
LEGACY - Preemptive Play attribute is now a legacy feature. The Automator Announcements feature is far more powerful and is the recommended approach for Announcements.
A Preemptive Sound Item is useful method for injecting announcements into a music program . It will cause all other playing sounds to suspend (pause) until the Preemptive Sound Item ends. When it ends, the suspended Sound Item(s) are resumed. Example: "Attention, the show starts in 10 minutes".
Preemptive Play Behavior
Suspends Other Sounds

- All other currently playing

Sound Item

are suspended (paused) until the Preemptive item finishes playing. Paused

Sound Items

are resumed once the Preemptive item ends.

Auto-Fades

- Preemptive

Sound Items

can be excluded from Auto-Fades by checking an Auto-Fade Behavior option in the Sound Item Options.

Pre/Post-Delay

- You can force all Preemptive play

Sound Items

to have a standard Pre-Delay and/or Post-Delay. (See the Announcements Pre/Post-Delay in the Sound Item Options dialog). This will automatically pad 'silence' space before and after the Preemptive announcement to avoid abrupt transitions between the announcement and music program.

Preemptive Collision

- If you play a second Preemptive

Sound Item

while another Preemptive

Sound Item

is playing, the current one is canceled.