"You really couldn't ask for a better all-around experience than the one you get when you purchase Sound Mill !"
Mark Angelo, Owner / Corporate Entertainer, Comedy In High Definition®

Mark Angelo, as a stand-up performer, operates Sound Mill from on-stage via a small remote control device concealed in his pocket.
Gentlemen, Start Your Glow Balls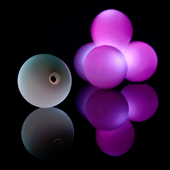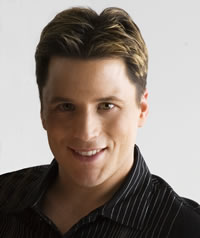 The Requirement

Mark Angelo with his wife Marlo operate a business that, among other things, provides entertainment at corporate events and conventions for large and mid-sized corporate customers worldwide. The unique interactivity, stunning visuals, and routines precisely timed to music are the keys to what makes their performance a stand out act. For the show finale, Mark and Marlo perform a comedy juggling show with lighted glow balls that change colors with precise timing choreographed to a music track. The catch is that the initialization of the glow balls lighting sequence needs to be timed exactly with the start of the accompanying music track. This was always a tricky process and required an assistant to do the steps manually at the computer off-stage.
The Sound Mill Solution

Using the Sound Mill Easy Player, Mark can now control the music tracks from a small remote control device hidden in his pocket. Using Sound Mill automation scripting, he is able to start the glow balls external sequencing program and simultaneously start playing the associated music track for the routine -- all timed with precision. This is all done via one button push on the remote control device in his pocket. As an added benefit, this automation frees up Marlo, an accomplished performer in her own right, from sound operator duties to join Mark on stage for a duo performance.

Via Sound Mill , Mark can Play/Pause/Resume a playing music track with one remote button. When a music track finishes, focus advances to the next music track automatically. Other remote buttons are available to Stop a music track, and advance focus to the Next track or Previous track. The volume can also be changed with the remote if needed. Mark keeps separate playlists for longer or shorter performances based on time constraints. He just opens the playlist for today's show, and steps on stage. The Easy Player is set up to fill the laptop screen with 3 music track buttons -- the current playing track plus the Next and Previous tracks. Large fonts make it easy to read from on stage.
Testimonial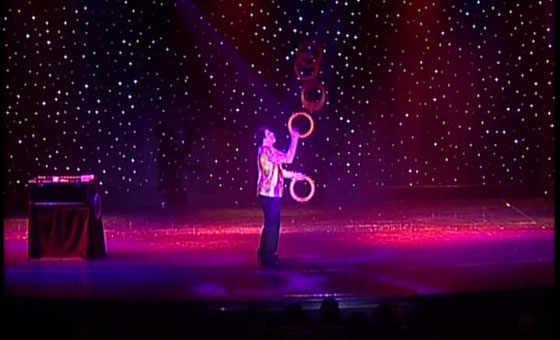 Mark Angelo, Comedy In High Definition®, Mark & Marlo Productions, LLC, 2018.

" Sound Mill is a great product at a fantastic price!

I am an entertainer that prefers to play tracks myself rather than rely on another person...after all, who knows my show and the intricate timing of cues that it requires better than me? Because of my unique needs, this software has proven itself invaluable.

I was already using my laptop to control the finale of the show, which involves simultaneously starting eight programmable LED glow balls, precisely timed to music. With Sound Mill , I can now reliably start the balls and the music using a Sound Mill script with the Sound Mill Easy Player. This increased reliability and ease.

As a comedian and juggler, I am very active in my show, moving around the stage constantly. Sound Mill provides me with the freedom that I need in order to do it properly. Using a remote in my pocket, I can control everything my computer does as it sits in the wing awaiting my next command.

Not only does this product beat its competitors by hundreds of dollars, it also comes with an incredible level of customer service. There was always an ACTUAL person on the other end of the phone anytime I had a question that needed answering. You really couldn't ask for a better all-around experience than the one you get when you purchase Sound Mill !"



Be sure to see the performance videos at their Corporate Entertainment Website.
Gear

Sound Mill Product Information

Notes:
- Stage photo by Mark & Marlo Productions, LLC Copyright © 2018