" Video Mill works beautifully. The software is exactly what we needed."
John Long, President, Georgia Radio Hall of Fame

Video Mill is being used to project HD video movies on 2 large screens at the annual induction ceremony.
May I have the envelope, please.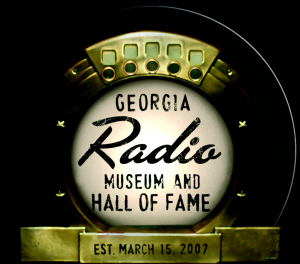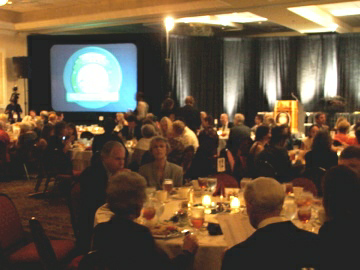 The Requirements
The
Georgia Radio Hall of Fame
(GRHoF) museum is home to a large collection of antique radios and equipment, Georgia radio historical memorabilia, the interactive Georgia Radio Inductee Wall of Fame, and displays depicting a typical American living room in the 40's with a radio as the centerpiece, as well as an authentic display of a typical radio control room in the 50's.
The GRHoF hosts an annual induction award ceremony and banquet with 300+ guests to induct new Hall of Fame members including current nominees and Career Achievement inductees.
In brief, GRHoF requirements included:
Playing High Def 1080p videos.
Playing many common video formats including MP4s and MOV Quicktime files.
Playing very large video files (in the Gigabytes range).
Projecting videos onto 2 large screens simultaneously.
Ability to continue doing other work on the computer while a video plays on the Windows extended desktop.
A one-click way to load and start video play.
A program that will remember the video screen size and location on the extended desktop to facilitate the one-click load/play scenario on show night.
Easy editing and saving of video configurations for play behavior and display attributes (called a

Media List

in

Video Mill

).
The Video Mill Solution

Video Mill is used as the player on a Windows 8 laptop. A video switcher is connected to the laptop with a High Defintion Projection System cabled to the switcher. The Projection System simultaneously displays the video on the two large screens.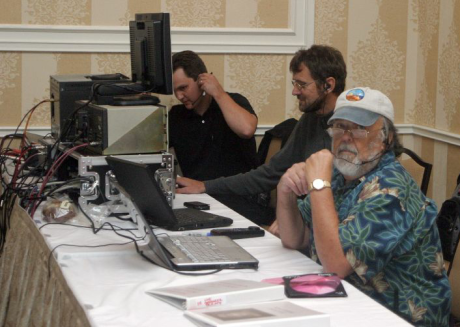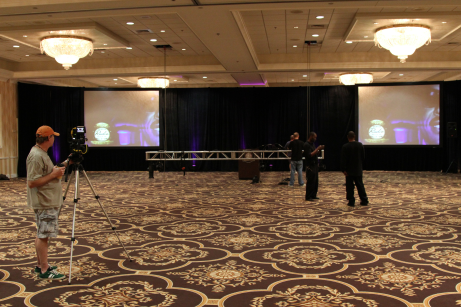 Testimonial


John Long, President, Georgia Radio Hall of Fame, 2014
"I was looking for a Windows based program for interfacing with equipment used for projecting videos onto large screens at our annual induction ceremony. I looked thru the list which a Google search returned and decided to get a trial version of Video Mill . It satisfied our needs. After purchasing the version we needed. I am hardly proficient in setting up program specs, however, Breakthru Software Customer Service assisted me every step of the way and it works beautifully. The software is exactly what we needed."
Gear/Tech Specs

Laptop Computer > Video Switcher > HD Projection System > 2 Large Display Screens.
Windows 8 (x64 bit).
Videos: MP4, MOV Quicktime; 1080P HD; file sizes: 1 to 2+ Gigabytes.
Video Mill Product Information

Notes:
* Venue photos by John Long Copyright © 2014