" I've Used Video Mill with Phenomenal Success."
Tim Brown, Festival Director, Superman Celebration Fan Film Festival

It's a Bird. It's a Plane. No, It's Video Mill , the Official Film Projection Software of the Superman Celebration Fan Film Festival.
Is High Def Video Your Kryptonite?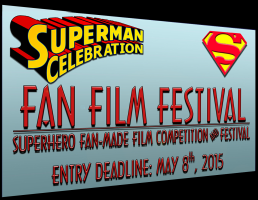 The Requirements
At the annual
Superman Celebration Fan Film Festival
in Metropolis, Illinois, the
Film Screening Room
is arguably one of the most popular attractions at the event. And
Video Mill
is the trusted software foundation for the Screening Room projection system. In brief, the requirements include:
Playing High Def 1080p video.
Playing many common video formats including VOB files used on most DVDs.
Playing huge files (Tim has some videos close to 30 Gigabytes in size).
Projecting video onto large screens, either digital screens or via video projectors.
Ability to continue doing other work on the computer while a video plays via Windows extended desktop.
A one-click way to load and start video play.
A program that will remember the video screen size and location on the extended desktop to facilitate the one-click load/play scenario on show night.
Easy editing and saving of video configurations for play behavior and display attributes (called a

Media List

in

Video Mill

).
The Video Mill Solution

Video Mill hits the mark on all these requirements. Tim's testimonial describes the solution perfectly, so read on to hear an unbiased customer opinion.
Testimonial
Tim Brown, Festival Director, Superman Celebration Fan Film Festival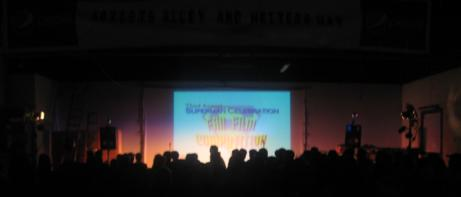 I've used

Video Mill

with phenomenal success since I switched to a file-based projection system back in 2012 for the 5th Annual Superman Celebration Fan Film Festival in Metropolis, Illinois. As we go into our 8th year of the festival, and the 37th year of Superman Celebration, I feel confident that

Video Mill

will be a trusted companion for many years to come.

Before discovering Video Mill , I had embarked on a long and tedious search for a software solution that would allow me to play films not only on an extended desktop, but also in HD and in large, batched files that would allow me more time to attend to my numerous other duties at the festival while the showings were in progress. My search for an affordable, reliable, and easy-to-use solution seemed fruitless for months until I found Breakthru Software's Video Mill .

I first encountered Breakthru Software while I was a technical advisor for HauntedWeb in Memphis, TN -- a haunted attraction for which I used Sound Mill, an impeccable multi-playback audio program. Upon downloading their Video Mill program, I was pleasantly surprised by not only how easy to use it was, but how well it fit the bill in terms of my presentational needs for Superman Celebration. After less than 30 minutes of initially test-driving Video Mill , I knew it was the program I had been looking for, and the purchase price was far below that of similar video presentation software I had tried.

Video Mill is not only able to play back the SD and HD [Standard and High Definition] content that I present at the Superman Celebration Fan Film Festival, but it also contains most of the features of many higher-priced software solutions I tried out before choosing it. Video Mill allows me to use an extended desktop so I can run other software at the same time on my second monitor while playing the videos in its queue on a digital projector, it remembers where on the extended desktop I want the videos displayed upon subsequent replays, and it remembers the sizes I have chosen for the videos upon subsequent replays as well. As an added plus, Video Mill not only offers playback scheduling, but it also is able to handle the monstrous 20-30GB file sizes I use for certain long video presentations without any problems -- something that some of the other programs I tried before had noticeable issues with. (And, mind you, the PC I am running it on is an old Pentium IV with 2GB of RAM running Windows Vista 32-bit!) Reliability is something I definitely need as over 40,000 people regularly attend Superman Celebration every year, and I can't leave audiences waiting because of technical issues. Video Mill tackles my technical needs reliably and effortlessly!

I have been so incredibly happy with Video Mill that I have expanded my use of it not only when I use it for the outdoor film showings I do at Superman Celebration, but also for every other video presentation I do as an audiovisual professional. I am just that impressed with Video Mill ! It has definitely found a permanent home here at The Superman Celebration Fan Film Festival.

As a final note, I cannot begin to stress not only the exceptional quality of Breakthru Software's products, but also the quality and efficiency of their customer service. It's rare that a software company actually listens to its customer base, and Breakthru Software is one of those unique companies that does. Their customer service is impeccable, with new features routinely added to their software to accommodate customer requests. That is down-home service that you just don't find anywhere nowadays, and that is why I am a repeat customer, and why I would gladly recommend their products to fellow audiovisual professionals, film festivals, and anyone who is in need of quality, easy-to-use, affordably-priced software. Breakthru Software is truly a cut above the rest, and I look forward to seeing what products they unveil in the future.


Tim Brown
Festival Director, Superman Celebration Fan Film Festival

Gear

Computer: Pentium 4 - 3.2 GHz, 2GB RAM, Windows Vista 32-bit.
Video Projector: Sharp Notevision XG-NV6XU connected via VGA.
Sound System: Alesis MultiMix 8 USB mixer that acts as an external sound card as well as the main mixer for the sound system.
Video Mill Product Information

Notes:
* Venue photo by Lin Workman Copyright © 2010