"Our clients are very excited about the Video Wall and its capabilities."
Hilding Larson, President, Matrix Mobile Television

Using Video Mill to Drive a 10 Display Video Wall.
Let The Games Begin !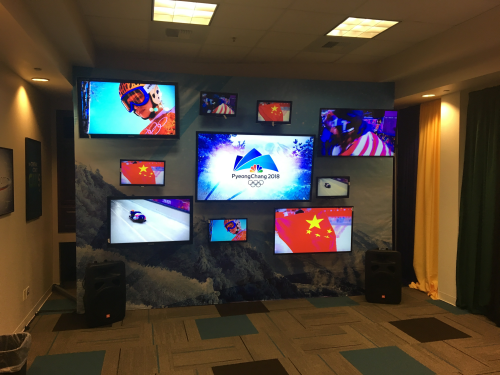 Watch the Companion Video

See the companion Youtube video that has a live video clip of this video wall in action.
Customer Testimonial
"Videomill does a lot more than just play videos. It does have a learning curve because of all the features it offers. Their Support was very helpful in explaining how the program worked and helped me out of a few programing problems. Once my programing was debugged, it ran perfectly throughout rehearsals and on event day."
- Hilding Larson, President, Matrix Mobile Television
The Requirements
Hilding Larson, president of Matrix Mobile Television, a media services company in San Luis Obispo California, emailed us with an interesting requirement. His client, the NBC television affiliate in San Luis Obispo, requested a video wall for a customer marketing event centered around the 2018 Olympic Games. The wall would consist of one large display at the center to present a Power Point slide show to clients. That display would be surrounded by an outer-ring of smaller displays to play various sports themed videos of various lengths on a repeating loop.
The Video Wall Operational Phases:
While customers are filing into the conference room, the wall will play multiple, simultaneous, action sports videos as a visual backdrop for the meeting. The videos are different lengths in the range of 2 to 3 minutes long. All videos repeat continously. (Figure 1)
When it is time to start the meeting, with a single button click, the presenter pauses all the sports videos, replacing them with a simple logo video to avoid distraction during the marketing presentation. (Figure 2)
The presenter then begins a Power Point slide presentation using the center display. (Figure 2)
At the end of the marketing presentation, with a single button click, the presenter resumes all the sports videos which repeat until the end of a Question and Answer session. (Figure 1)
The Video Mill Solution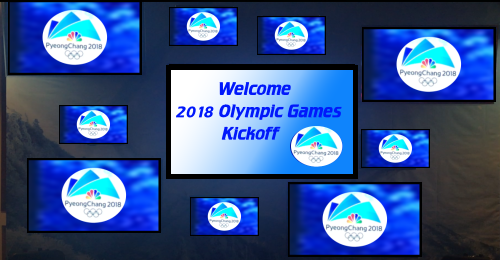 Transitioning between the Video Wall operational phases above turns out to be fairly straight forward using
Video Mill
.
Also see the Video Mill Knowledge Base article that details the implementation of this Video Wall.
Gear/Tech Specs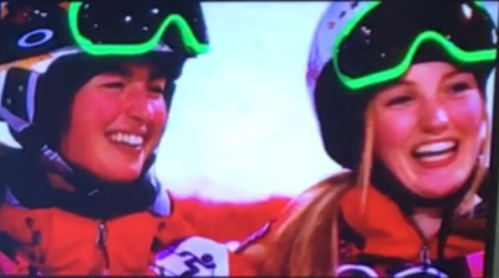 Matrix Mobile Television

Video Mill Product Information

* Photos and video courtesy of Matrix Mobile Television Copyright © 2017.