Program Menus
File
RMM uses Cue-List files (.XML file extension) exported from Sound Mill and Video Mill (export is under the IPC menu). The Cue-List files contain information about the items in the Soundlist and Medialist.
Menu items
File Open by Drag/Drop
You can open a Cuelist file by Drag/Drop from any file manager (ex. Windows File Explorer).

File toolbar

- Buttons (from left to right): New Cuelist, Cuelist File Open, Save Cuelist, View Cuelist Details, and program Options.

Edit Cuelist
See separate Cuelist Management page.
View
Menu items
Actions
The Actions menu items functions are the same as the Play Actions buttons listed on the Quick Start page.
Player
The Player menu items are listed on the Player page.
Voice
The Voice menu items are listed on the Voice Interface page.
Menu items
Standard Terms
The Standard Terms are terms that are associated with the Play Control Actions buttons (Figure 3). Each term can be one word or a multiple word phrase. They are used for the Voice Interface and optionally for tooltips on the buttons. There are two reasons you may want to change these from the program defaults: 1) For national language translation of action names; 2) For a preferred word for one or more actions when using RMM as a kiosk.
When viewing the Standard Terms, the action associated with the term (Term Usage) is listed next to the Applied Word(s).
There are 12 Standard Terms: "Play", "Stop", "Pause", "Resume", "Cancel", "Item", "Previous", "Next", "Page Up", "Page Down" , "Home", "End". For example, if your language is set to Spanish, then change "Play" term to "Reproducir", etc (Figure 2). "Item" is interpreted by the voice engine as 'the selected Cue item'.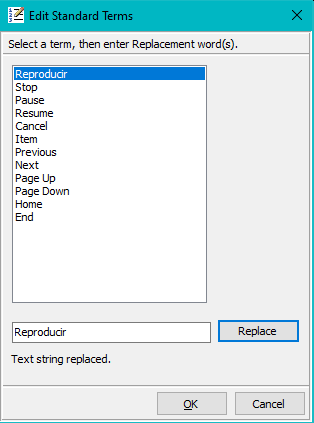 User Interface Lock (UI)
This allows you to lock/unlock the Admin features of the UI. When untrained/novice users are given access, you may want to hide adminstrative features from these users by locking the UI. When locked some menus are not available. You are prompted to enter the Admin password for authorization. The Admin password must be set in the Options to use the Lock feature.
Menu items
Help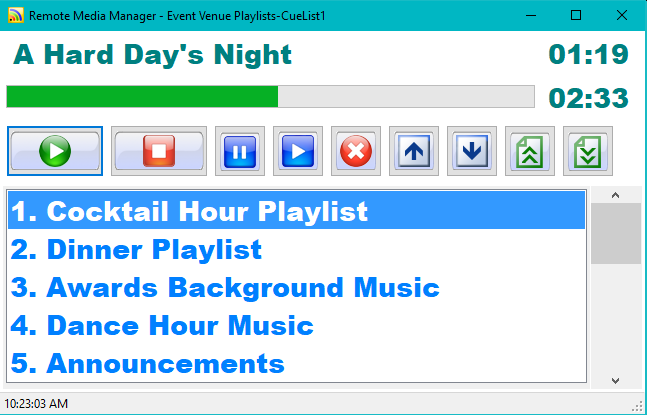 Limitations
Clicking Play Twice When Running a Script

- If you click Play a second time without first stopping the Script, the RMM progress bar may zero out and appear as if nothing is playing. If you click Scan for Playing Media on the Remote Tools toolbar it should restore the progress bar indicator. In any case, when the next item in the script begins playing, the progress bar will be updated.

Running Concurrent Scripts

- RMM will allow you to start concurrent scripts, however the RMM progress bar will change every time a media item starts playing in any script. In this case, the best way to determine status of a script is to select the RMM cue, then click the Get Remote Status on the Remote Tools toolbar.