Overview
Product Abstract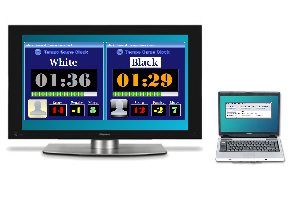 Intended Uses - Tempo Game Clock is a multi-player game clock and game record keeper all in one. Use it for custom game shows, tournaments, debates, athletic contests or any situation where a time keeper is required. Create your own game show concept and pilot it at your local theater or club. Turn your theater, club or living room into a spectator game venue, complete with game clocks and scoreboard. You can project the game displays onto a standard digital television or a digital video projector with no special hardware. It is highly customizable to create clock and score behaviors for any game you can dream up. You can create even the most complex time controls and scoring schemes with any number of players. The period lengths can be adjusted to meet tournament rules.

Or just place your laptop on a table and enjoy a timed board game with friends. Simply press the space bar to stop one player's clock and start the next player's clock. There are pre-configured games for Chess, Checkers, Go, Boggle, Scrabble and most common Board Games. For chess, the clocks can be operated to compliance with official Clock Rules of the US Chess Federation (USCF) or the World Chess Federation (FIDE).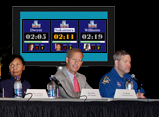 How It Works
- Just connect your computer to any standard digital display device such as a Television or a digital video projector via standard cables like HDMI, S-Video, VGA, etc. Then make it a secondary screen by clicking
Extend These Screens
in the Windows Control Panel. You can continue to use other computer programs even while the clocks are running.
For standard games like Chess, Checkers, Go, Boggle, Scrabble and most common Board Games, just pick the game type. Choose from one to 16 players. Set the number of time periods and the length of each period. Then you are ready to play.
For custom games, set-up is easy. The
Period Editor
lets you set the period length; set the clock type to Count-Down, Count-Up, or Gong style; and more unique time control settings. Specify the scoring method and point values if any. Score buttons will be added to the
Game Controller window
. You can set simple or complex delay schemes, bonus or penalty points for player time expiration, and much more.
The
Game Display
look is
very customizable
. You can show or hide any of its components. Resize the game displays to fit your display screen. Set the panel colors and fonts and include your school or club logo. With the
Persona Editor
, you can add player names and avatars or a photo of each player. Change the game buzzers sounds as desired (any MP3, WAV or WMA will work). Virtually any
national language
can be used on the Game Display.
Once you've set up your game, save it for future use. At game time, simply load the game file, and click the start button.
FYI
Special Offers
Special: 25% to 30% Off As a special promotion and for a limited time, we are offering most products at 25 to 30% off the regular sale price. See the product "Buy Now" page for applied discounts.
Evaluation Key
Get an Instant, 30-Day Evaluation Key. It will unlock all the features of the program for all editions and allow you to save your work. No obligation. No order forms. No marketing emails -- Just a key. Enjoy.
Operating Systems
This product runs on:
Windows 11/10/8/7/Vista
64bit, 32bit, and "N" editions
(See a few exceptions.)
Customer Stories
Read how our Customers have excelled! And please consider joining our Customer Stories Program. We want to hear your story!
Used by Hollywood Producers

Tempo Game Clock goes Hollywood! When J. Keith van Straaten (television comedian / actor / producer ) and Jim Newman (co-creator / producer) wanted to pilot a game show concept named Word1 , they needed a custom clock for a three player game. Tempo Game Clock turned out to be just the ticket. Read more about the Word1 pilot shows. Tempo Game Clock is now the official "Game Clock of the Stars". Ok, maybe that's a bit of an exaggeration. :)

Read more about how J. Keith van Straaten and Jim Newman used Tempo Game Clock for their production of the Word1 game show pilot.
For Standard Board Games At Home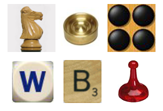 Tempo Game Clock supports standard time controls and scoring for Chess, Checkers, Go, Boggle, Scrabble and virtually any Board Game where a clock can be used. It's customizable for almost any conceivable game and time control. Place your laptop computer on the table next to the game board and let it do all the time keeping. The clocks can be operated in compliance with USCF and FIDE chess organization standards and rules, including delay clock functions.
Demo Videos
Don't miss our online demo videos.
Key Features
One to sixteen player clocks

- Separate game display clocks for each player, accurate to tenths of a second. Stop and resume the game as desired.

Customize the game display

- You select what features of the game display should appear or be hidden and adjust positioning alignment.

Supports any national language

- Reset game display labels to any national language. See this German game display example.

Player handicap

- Set clocks to different period lengths to compensate for different player skill levels.

Pick player that moves first

- Player 1 (White) generally moves first, but you can pick any player to start the game.

Delay clock

- Allows for a time delay on each move before a players clock starts to count down. (set to any value)

Load preconfigured games

- Pick from many preconfigured games (ex. Chess, Checkers,...), then customize as desired.

Create custom games with configurable time controls

- Create your own custom time controls -- highly configurable. A Time Control can contain one or multiple periods of play, each with its own set of attributes. Period attributes include: period length, delay and bonus time, and number of required moves to complete by end of the period and more.

Spacebar completes each move

- Click the Spacebar when a move is completed. Your clock is stopped and your opponent's clock begins to tick.

Track moves

- Tracks number of moves completed by each player.

Change Buzzer sounds

- Distinct buzzer sounds for end of period buzzer and end of game can be turned on or off. Change them to any audio file on your system (MP3, WAV, WMA, etc).

Game logging

- A complete log of all game events is automatically recorded. Save or print it for a permanent record.

Record move notation

- You can enter each move as board notation if desired. (chess example. Be5-d6) for a complete record of the game. Some tournament rules require this.

Save customized games as favorites

- Save customized games as Favorites for future use. Import and export custom games and share with friends.

Score keeping

- Keeps a running tally of player scores (game dependent - captured pieces or word scores) . Includes bonus and penalty scoring that you can configure.

Roll one to six dice

- Lost your board game dice. No problem, use the dice roller for up to 6 dice.

Personalize with player personas

- Add player personas (profiles) with screen name and image file then apply them a given player. You can literally create and save a profile in less than a minute . Use virtually any photo or image file as your avatar.

Set custom colors

- Change any of the game display colors to your own preferences.

Game display fonts

- Use any font on your computer for a unique look.

Marquee

- Add a Marquee banner for your school or club at the top of the game display.

Use on any Windows computer

- Laptop or Desktop.

Lots more...

- See complete details in the User's Guide document.