Overview
Product Abstract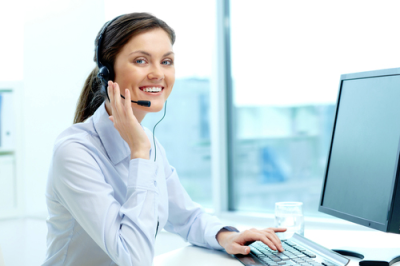 Intended Uses




Microphone or Line-In Device Broadcast - You can use any computer connected microphone to broadcast announcements to one or to multiple sets of computer connected speakers simultaneously. You could also play music feeds from a Line-In, USB, or Bluetooth connected device such as a phone or MP3 player.

Audio Player - The Player lets you build, play and save Playlists of audio files (music or voice recorded announcements) from your hard drive, network drive or Web-based sources.

Figure 1 shows an example of a multi-zone venue which has separate PA systems in the stage, lobby, and courtyard areas of a theater. Examples of typical venues include theaters, shopping malls, retail stores, office buildings, sports venues, schools, haunted house walk throughs and other public venues. Hobbyists can use it at home as an intercom to basement or garage.
How It Works - You can create any number of Output Groups . Each Output Group contains any combination of one or multiple devices (speaker systems). Then at show time, simply pick an Output Group to use which pipes the audio where you need it. For example, one Output Group may contain three zones (Stage, Lobby, and Courtyard). Another Output Group may contain one zone (Lobby only). The Output Groups are saved automatically from session to session.
With the Player, just drag and drop audio files to create a Playlist. Save Playlists as standard M3U Playlist files for future use. The Player can play playlists in continous Loop mode or play the Playlist a specific number of times. Apply a time delay at the end of the Playlist if desired. This is useful to repeat a pre-recorded announcement(s) at regular intervals.
Need a More Advanced Player?
If you need a player with an advanced feature set, take a look at our Sound Mill product.
FYI
Special Offers
Special: 25% to 30% Off As a special promotion and for a limited time, we are offering most products at 25 to 30% off the regular sale price. See the product "Buy Now" page for applied discounts.
Evaluation Key
Get an Instant, 30-Day Evaluation Key. It will unlock all the features of the program for all editions and allow you to save your work. No obligation. No order forms. No marketing emails -- Just a key. Enjoy.
Operating Systems
This product runs on:
Windows 11/10/8/7
64bit, 32bit, and "N" editions
(See a few exceptions.)
Customer Stories
Read how our Customers have excelled! And please consider joining our Customer Stories Program. We want to hear your story!
No special hardware required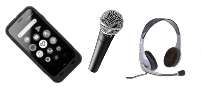 Your hardware could can be as sophisticated as a professional quality multi-core desktop powerhouse or server with a multi I/O channel sound card. Or as simple and mobile as a laptop or netbook computer with computer speakers connected to the headphone jack. With multi I/O channel sound cards, if the I/O channels are listed in the Windows Sound Playback devices list, it should work (see Windows Control Panel > Sound applet tab). Use any computer connected microphone[1]: a microphone connected via the computer's microphone-in jack or sound card mic-in, USB mics, or headset mics.
See the Hardware Compatibility page to determine if your hardware is compatible with Matrix Mic .
Key Features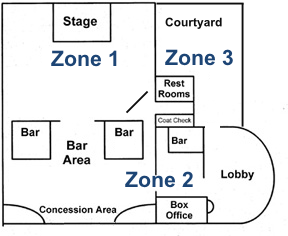 Broadcast Mic to one or multiple speaker systems for live announcements

- Use as a PA system (

Public Address

) for live announcements to multiple connected speaker systems simultaneously.

Full Function Player for Audio Files

-Create and save standard M3U

Playlists

and play them to desired zones.

Modify Player Behavior

- Play the entire

Playlist

once; or a specific number of times; or in a continuous loop until you click stop. Or Play only one, selected

Playlist

item. Add a time delay if you are simply playing a couple pre-recorded announcements and want them to repeat it at regular intervals. For example, repeat an announcement every 2 minutes -- "Show starts at 7PM. Please take your seats.".

Easy Drag and Drop Playlist Creation

- Simply drag and drop audio files from Windows Explorer to create a

Playlist

. A

Playlist

editor allows you to re-order and delete files. Save

Playlists

as standard M3U

Playlists

for future use.

Import Playlists from Other Tools

- Since

Playlists are standard M3U

format, you can use playlists created by other media tools.

Select Output Devices

- Select the zones where you want to send mic announcements in a Multi-Zone Outputs Systems environment. (ex. lobby PA, stage tower speakers, courtyard).

Fully Configurable

- Create and save

Output Groups

that define which speaker zones to use. For example, an Intermission Announcements group may contain 2 target zones, lobby and concession area.

Import and Export Output Groups

- You may have different configurations needs for different events (ex. Matinee or evening performance). Reload saved

Output Groups

as needed.

Assign User Friendly Device Names

- If the lobby speaker system is connected to sound card named "USB Sound Blaster Audigy 2 NX", you can assign it the logical name "Lobby PA" in your configuration. This way operators can easily understand your zone configurations.

Set Volumes for Speaker Systems

- You can independently set volumes for each speaker zone. So an announcement may sound louder or softer in any given zone.

Standard Audio Formats Supported

-

Matrix Mic

Player

supports these formats: WAV, MP3, WMA, and AIFF . If you are not using

Output Groups

, it supports virtually all formats available with

Windows Media Player

. Other extended formats can be added via free codecs.

Plays Local Harddisk Or Web Based Files

- Play any audio file on your harddisk or Web Based media (http or https links).

Set Output Format Quality

- Set Mic output to Mono/stereo, sample rate quality (ex 48K Hz), bit rate quality(8, 16, 24 or 32 bit).

Select Source Mic

- If your computer has more than one microphone connected, easily swap between source mics.

View and Print Configurations

- Save the Configurations in a text file and/or print to paper to include in a project book.

No specialized hardware required

- All you need is a computer connected microphone or headset with mic[1]. And one or multiple speakers systems connected to your computer via off the shelf sound cards or even wireless speakers. See the discussion of Multi-Zone Outputs Systems for hardware ideas if you do not already have an in house speaker set up.

For Pros or Hobbyists

- Multi-Zone Outputs Systems are not just for the Pros anymore. Hobbyists and amateur production sound designers can inexpensively set up a system that meets nearly any budget.
[1] Note: Built-in laptop microphone and Web-cam mics are not a good choice since their proximity to the built-in computer speakers may produce feedback into the mic.